Phantom United Kingdom
In 1988 Chris and Martin of Phantom Productions, joined the Texas Music delegation attending the international music conference MIDEM in Cannes, France. In addition to representing their artists Deborah Giles and Ron Rogers, Phantom represented numerous other artists and held some 100 meetings with 23 publishers and record companies from 14 countries.
While at MIDEM, Chris and Martin met David Case of Mass Productions from Milton Keynes, England. This relationship resulted in the formation of Phantom UK, with offices in the US, UK and Hong Kong. David brought music resources as well as computer expertise that enabled Phantom to grow in several directions. One interesting note is that Chris and Martin began looking at the Wavefront animation program that had been developed. This excited David and he worked to become the Wavefront representative in the UK. This was unsuccessful, however, he landed the representation for the cutting edge Intelligent Light annimation software. These endeavors had David, Chris and Martin making many trips between the US and UK and included a cool computer conference presentation at the Alexandria Palace in London. We presented Intelligent Light's animation demos on the new Apollo systems. This was the venue that Led Zeplin and the Grateful Dead (amongst others) played. Chris and Martin also formed a close relationship with JohnCambridge and his wife Joan. John videotaped a promo while on a trip to the US with David.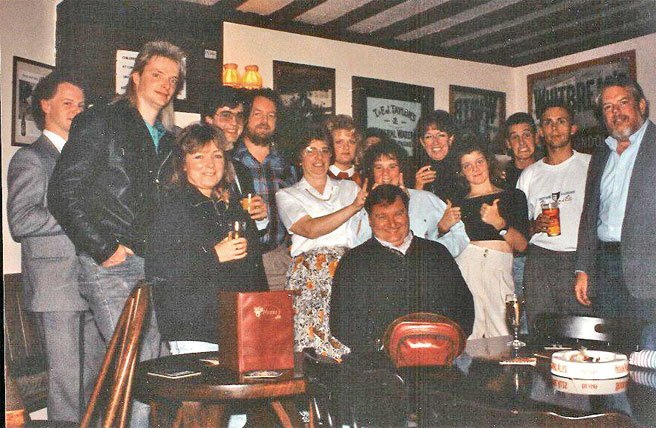 Chris &Martin with David Case, John Cambridge plus family and friends in pub in Milton Keynes, UK

Martin & Chris with Phantom's UK guitarist John Cambridge
Here's some photos and stories from that period of time. Click on photo for larger version.