(click on pics for larger version)
Part 1 • Go to Part 2
Bracken watching for Chris, chasing squirrel and early morning out with Chris
June storm • video
Sunset • Bracken • dragon fly • Amy's on a Sunday drive • Chris rode Taffie
Chris with KD and Taffie - KD getting boots • Taffie scratching her ear and Bracken watching • video
Martin wrapping up his work on the TCDS web site • contract ended 06/30/16 - Martin UT 08/01/1997 to 06/30/2016
Gary came over to adjust Chris' muck pile • video
After 9.5 years, Bracken had her first close skunk encounter - happier after a bath (rt ) • Dry Creek monster with turtle
Taffie following Chris
DPM Event In-A-Jam band • David Renee & Chris •Martin with Peyton Starr whom Martin first recorded in Alpine, Texas in 1964 when Peyton was with the Believers- J.W. Marriott • video
Taffie loving Chris' spraying • video
Front porch lizard • Farrier • Father's Day
Chris working with Taffie & carrots for KD
Chris working with Taffie and giving Bracken a brushing • Squirrel up tree
Bracken going after skunk...luckily unsuccessfully (later not so lucky)
Museum tour and recorder donation from Janet and her family from New Mexico
Chris went to ride with Barbara and Jeannie, however Taffie had other plans • video • mowing
Bracken at the stable • Chris riding Taffie
Chris & Bracken • Gecko on front porch • studio • Lake Travis 060516
Chris working with Taffie & KD watching
Circle and Peggy trees
KD watching pasture work • Bracken watching for Chris
Chris and Martin 31st anniversary
Hay delivery
May 27, 2016 flooding on Dry Creek in River Crossing • 35 years to the day since Austin's devastating Memorial Day flood. • video 1 • video 2 • more photos
Chris hired Martin to shoot photos for an event above the Hula Hut for an Austin title company • more photos & video
Full moon • Security and Horse cams • Chris, TAffie & KD • Chris mowing
Skype with SAJR - unfortunately lost connection so no Sharon, Desi or lego pics
Bracken...my bed • trash day • Martin preparing GoToMtg with TCDS • Bracken keeping birds birds away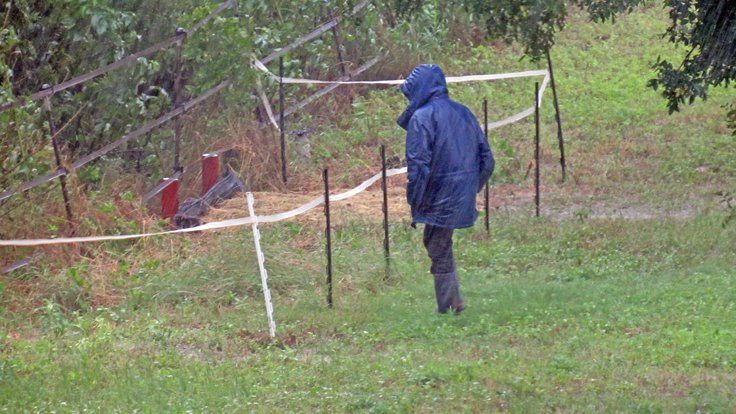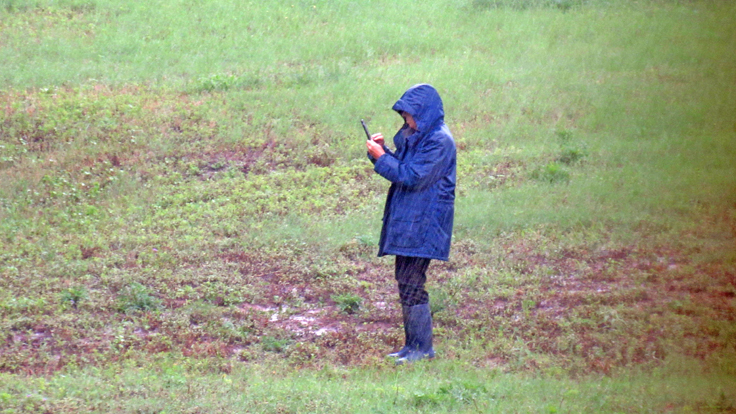 Rain - Chris checking drainage and KD and Taffie fed up • Bracken in the Studio • Martin Go To Meeting w/Amy TCDS
Chris riding Taffie on a rainy day & KD being good! • video
Ken in Eugene, OR
David and 2 boys helped Chris with drainage work
Chris multi-tasking talking entertainment and accepting stone delivery for pasture drainage work
Skunk in pasture • KD from new stable camera • Hwy 71 traffic jam due to construction
Chris riding Taffie with KD being good• Bracken stalking bird • video
Phantom Productions photography recently included photos for some of UT staff and poster for the UT Services for Students with Disabilities
SSD Disability = Diversity posters

Photography and layout by Phantom Productions, Inc. for The University of Texas at Austin's Services to Students with Disabilities.

Project funded by the UT Texas Center for Disability Studies
UT TCDS SSD photo shoot at the UT student Services building
More Mother's Day • Bracken - buzzards on Bill's roof - video • Trudy's for brunch • Chris & Alejandro
Grackle Squirrel Standoff • Chris riding Taffie on Mother's Day • Bracken
Mother's Day 2016 - Flowers & cards (2Left) from Anthony & Sharon • cards right MT
New stable security network camera - good color and night vision • old cam's broken gear • pasture photo for drainage work
Replaced our stable camera • Chris, KD , Taffie training Junior
Chris and Taffie - video
Bracken ramping • Peacock - video • sunset
TCDS Arc of Texas Phantom Productions' video interviews

Chris KD, Taffie & Bracken - coming in for the night
Chris working with Taffie
Bracken found ball on landing • Bracken & Martin porch sitting • Chris' new audio system
KD acting up because Taffie is being walked out
Storm brewing • Bracken visiting stable and Taffie intimidating her
Texas Spiny lizard
Chris mowing and KD & Taffie watching and acting out
KD and a miserable wet hawk • movie
Sunset and our Murano hits 30,000
April rain • Chris' two horsepower mower
Chris with KD and Taffie with Bracken looking on • video
Chris Taffie lesson • bird jockey on weather vane
Chris mucking & Bracken on watch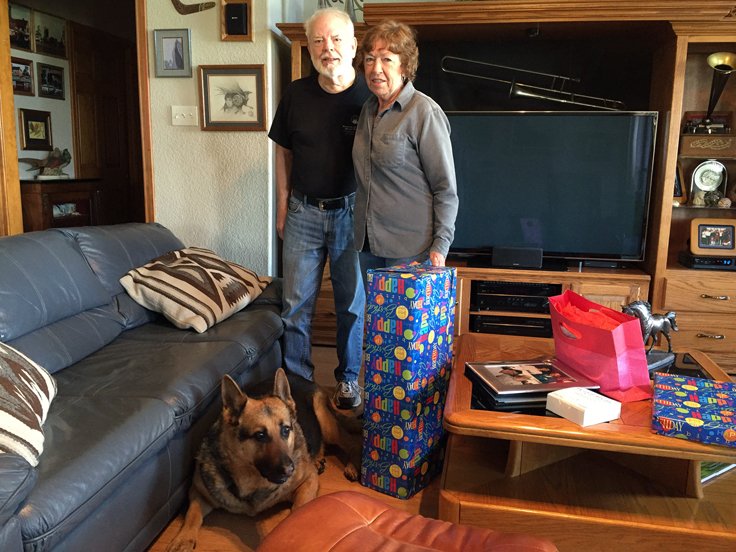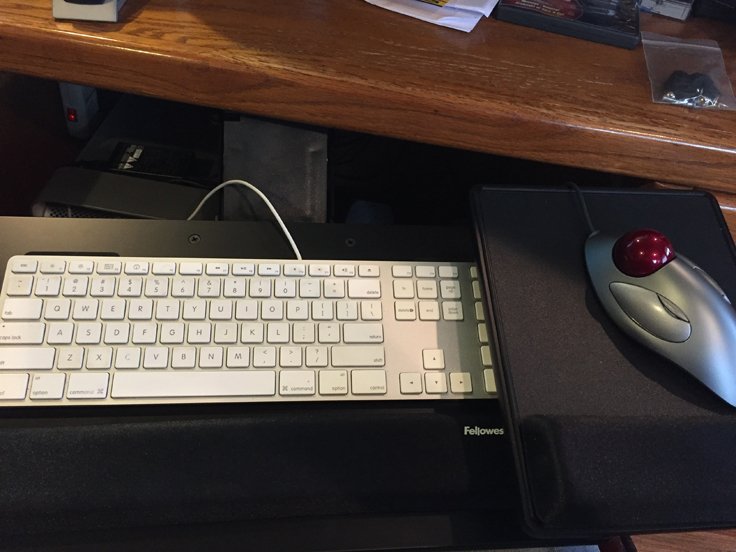 After Eggs Benedict, Chris, Bracken and Martin headed to Alpine. Spent great time in Alpine, Marfa, Marathon and Fort Davis. Really fun birthday! more pics
Martin's Niece Karen's daughter Becky and Bracken loves to travel
Chris working with Taffie
Dr. Moore treating KD with Chris • Bracken keeping watch
Chris working with Taffie
Martin's Yamaha ride • video
Martin and Bracken returning from Trudy's
Video shoot for TCDS at the UT School of Social Work - while we were waiting in the SSW fro the talent to showup, police officers, then Secret Service officers came through. Shortly after the US Sec of Defense arrived. Luckily they didn't confiscate our equipment case which were sitting unattended in the hall.
KD and Taffie running in for supper • video
Taffie was really good and Chris mounted first time!
Chris success mounting and riding Taffie • mowing Bill's pasture • Bracken • Chris Bracken Martin Easter
Chris and trainer working with Tafie and managing KD when Tafffie is out
Storm • Bracken Hat & waiting outside Trudys• bird boarders - video
Chris and Tafffie working with trainer and mowing yard
2016 SXSW Grammy Block Party Four Seasons Austin featuring Little Joe y la Familia and Ruban Ramos • video
Chris Taffie lesson
Deborah and David loaned Chris their trailer and pickup to go exchange her new Bad Boy mower • Chris mowing • video
Trainer working with Taffie
Bracken in the studio
Carol Burnett at the Long Center March 12, 2016
Chris at Tractor Supply taking delivery of her new Bad Boy Zero Turn52" pasture mower • video
Chris and Bracken heading out to KD and Taffie • Bracken at Farrier's truck and protecting us in the night from thunder • Updated router set-up
Our River Crossing deck on the Colorado River - photos taken by a neighbor
KD was on the ground when we returned from meeting with Don re taxes 030716. Vet came from Elgin and was able to get KD up.
EveryChildTexas - Nancy's' (left first photo above) retirement party 03/06/16 • Peacocks at the Cottage at Mayfield Park
Ken at Al's preparing to fly to Eugene, OR - Al, Wilma, Ken, & Chris- 03/05/16
Taffie with trainer • More Photos
Chris sold her tractor in 2 days
Brack waiting with Martin for Chris at HEB • birds in the tree
Chris, KD and Taffie
Chris and Martin visiting Ken in Houston • Family to Family Network offices Mary Jane and Jan
Bracken in hay room and watching squirrels
Chris and Gaila unloading hay
Valentine's Day
Bracken checking for squirrels and critters • Chris working on the muck pile
Feb 7, 2016 - 21st annual Chris and Martin Superbowl party • more photos
Chris brushing Bracken and out at the stable
Berdoll's grass fire
Bracken's Birthday Feb 1 • not crazy about toys - video
Rachel working with Chris to load Taffie in trailer
Karen UT TCDS retirement lunch
Chris and Taffie
Martin heads out on his Yamaha
We are saddened to learn of the passing of Martin and Chris' Uncle Bud - Albert "Bud" Theophilus- 94 - November 20,1921 - January 21, 2016 View more on Bud Theophilus
Chris, Taffie and KD • video
Chris sharing manure with the Angels • Bracken with a bone • Chris and Bracken
Chris and Martin celebrated their 31st marriage proposal anniversary at Paw Paws in Bastrop. Bracken came along
Chris & Martin videotape and interview Rick McRae - George Strait's guitarist
Photo shoot for UT TCDS - UT Water Tower at the Commons
Bracken's bed being washed, but I'll get on it anyway! • Chris feeding Bracken treats at Trudy's
KD Taffie Farrier
Bracken on alert
Taffie vet and running from flies • Bracken squirrel and black Lab • video
Bracken and Deer in River Crossing
Chris and Bracken New Years Day • Chris and Martin
Chris & Martin's Scrapbook - 2016 • Part 1 • Go to Part 2
"Phantom Productions" is the registered trademark of Phantom Productions, Inc. Copyright 2015
All pictures and content on this web site are the property of Phantom Productions, Inc.