December
Peter and Elaine visited for a week around New Years
Peter, Elaine, Chris and Martin celebrated New Years Eve with drinks at the Hyatt Lost Pines (where Chris checked on a DPM gig), dinner at Bastrop's Baxters restaurant and danced and enjoyed the Eggmen at Jovitas on South Congress in Austin - view video of the Eggmen from previous DPM event for IBAT

Peter, Elaine, Chris and Martin video visited with Sharon, Anthony,Julius, Sheila (US) and Michael (UK) using Skype view video

Ken & Chris working on Bracken & Troubador's room (Bracken had to be placed in her kennel, so work could progress) View video
Christmas letter page 1 page 2
Christmas Dinner at Barbara and Larry's home
Christmas pics from Sharon & Anthony's
Christmas Day Skype visit with Julius, Sharon, Anthony, Linda, Sara, Sheila and John - watch movie
Bracken & Troubador's Christmas (bones and tennis balls) View movie of play with Dominique's dog and watch incredulously as she runs off with a bone

neighborhood decorations
Dan Sherrill's Holiday Party 12/13/08 • Dan & Ray - Kay, Fred, Chris & Diane - Nick & Paul - Rusty, Dick, Cheryl, Paul & Henry
Holiday decorations (music note and horse before Bracken chewed horse's tail)
A wee bit of Winter precipitation - still down 17+ inches for year.
pic driving into Austin • Bracken & Troubador • Cycle pen
progress on house across street 12/04/08 - 12/12/08 and our house looking from across street
November
Chris working with KD

On Thanksgiving we had a power outage for 1.5 hours slowing diner, but not deterring us to celebrate and give thanks! This is the Bluebonnet electric crew we appreciated coming to the rescue. video
These Bobcat pictures were taken by our neighbors Amy & Gary near the bridge next to our house
House is being built across street - trucks video
Yes We Can! Si Se Puede! Yahooooooooo!
Anthony got up early to cheer me on as I left the house for a poll shift from 6-8 am yesterday morning.
We know so many of you worked hard on this election - with your time, your dollars and your support.
Thank you - it's a new day for the United States of America! Yes we can! Yes we did!
October
Martin with Yamaha TW200
Chris and Dancer with Troubador & Bracken (view movie) & C & M preparing to go ride Yamaha
Chris' Ridgeline brings Martin's Yamaha TW200 home, Obama sticker (also now has PHANTM plates back)
Chris on KD & Patty riding in back view video
Trudy's... our Friday & Sunday morning favorite!
October 12th, we attended the Neil Diamond concert at the AT&T Center San Antonio • We just received notice that Neil Diamond received the "person of the Year" from the NARAS (Grammy's) Music cares group

Sold Pathfinder 2nd time (this time to San Antonio Police officer) - more

Chris riding Dancer & KD looking on
Deer near Horseshoe bay while Chris checking on DPM event
Phantom studio
September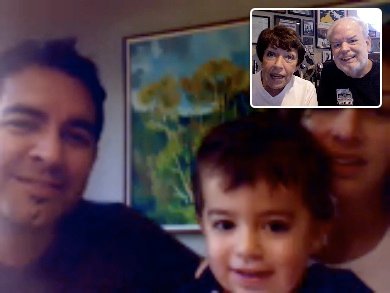 iChat
Chris returning from having Dancer's teeth floated
August
Chris, Liz, barbara and Dominique rode out near Johnson City where Dominique works and then took part in a wine stomp with other River Crossing folks
Chris booked the Riff Ryders for the LBJ Library as part of the 100th LBJ birthday celebration - view video
Chris out with KD and Dancer 082308 - movie
Bracken in her tub, Troubador & Bracken "ready to go" and waiting at Sonic watching for their Junior Burger to be delivered
pictures from the IBAT headliners Club shoot (roof of burned Texas Governor's mansion in pic 2) - movie
Dominique brought her new pup by to play with Bracken & Troubador • view movie
Chris working with KD
Cows in the neighborhood - movie
---
Columbus, OH July 30th through August 3rd • more pics & movies
Chris & Martin visited Julius, Sharon & Anthony in Columbus, OH July 30th through August 3rd. On August 1, we all went to Cincinnati to visit Sally and Don (Martin's Aunt & Uncle) and Martin's cousin Jan. On August 2nd we celebrated Chris' birthday! View movie
July
Chris' new Honda Ridgeline
A brief rain shower • movie
Martin at the Texas Capitol shooting the IBAT news conference
July 5, 2008 River Crossing 4th of July parade & party • view more pics & movie
June
click on pic for larger image
Family Photos June 19,2008
Chris & Martin celebrated 23 years of marriage at the Hyatt Hill Country in San Antonio, had dinner with sunset at the Charter House Tower of the Americas, visited with Gloria & Oz, enjoyed the Riverwalk and iChated with Julius, Sharon & Anthony. View pictures

Becky working with KD • KD, Chris, Becky, Friend & Liz • movie
May
Pasture spraying - video video2
Martin's UT TCDS office is across from the world's largest computer at UT
Ken's B-Day
Chris, Dancer, Dominique, KD, Patty & Molly riding - movie
Anthony, Sharon, Chris & Martin at Sheila and John's wedding - San Juan, Puerto Rico • MORE PICS & Movies
April
- storm video
Troubador, Bracken and friend Zany • view movie
iChat 04/13/08
March
Bracken and the door • view movie - Video
On the evening of 3/22/08 we were invited to see the ranch where Dominique is working. They had an open house and barbeque • movie
iChat with Julius, Sharon & Anthony
David played at the Hutto pet event 3/22/08, so we took Bracken & Troubador and they were better behaved than anticipated • movie
opening of the Long Performance Center in Austin • view video
Bracken checking out the porch
Chris participated in an event at Rachel's on March2, 2008 designed to help"bomb proof" the horses • view video
February
Julius, Sharon & Anthony sent us these pics from their trip to Churchill Downs in Louisville, Kentucky
Chris heading out for ride with Barbara
KD and Dominique's horses watching Chris & Barbara out for ride • view movie
We were visited by a few birds Saturday morning • view video
Valentine's 2008
Chris & Dominique participated in the February 10 Travis County Expo Arabian horse event. Chris & KD won 1 First, 2 - Second and 1 Fourth place ribbon.
Troubador & Bracken
Superbowl party February 3, 2008 • view movie
Chris, Dominique & Laurie out for ride • KD being protective of Dancer • view movie • helicopter over area
photos of Chris & Dancer & Dominique & Chris taken by Nell Carroll for the Austin American Statesman - click on article below to see larger image.
January
Troubador and Bracken January 12, 2007
House after being re-stained
Chris & Dominique loading for McKinney Roughs (with Bracken watching from her room) - movie
Chris & Dominique - movie
"Phantom Productions" is the registered trademark of Phantom Productions, Inc. Copyright 2008
All pictures and content on this web site are the property of Phantom Productions, Inc.