Mark Luke Daniels was referred to Phantom Productions by Sandy Edwards a Bank Manager at Franklin Federal. A management contract was signed and Phantom began producing audio and video for Mark Luke. Phantom sponsored Mark Luke at the MIDEM international music conference in Cannes, France. Subsequently, Phantom UK's David case produced several of Mark Luke's song with John Cambridge (Phantom UK artist.

Here's some cool rock clips from the UK sessions (John Cambridge on guitar) and the albums final Country.

Runaway Train (Country CD) • Runaway Train (UK Rock track)

Standing Trendy (Country CD) • Standing Trendy (UK Rock track)

Here's a couple of additional rock tracks from the UK sessions. Insomnia • I Ride Alone

Insomnia was written by John Cambridge. All other songs were written by Mark Luke Daniels ©1990.

With referrals from Phantom UK's David Case, Phantom signed Mark Luke to a publiushing contract with the Los Angeles based Montie Music Group. Montie Music Publishers hold the worldwide rights to Richie Valens music. Following a joint LA produced Phantom/Montie Music album for Mark Luke, he was signed to a seven album deal with Gene Simmons (KISS) on Simmon's own custom RCA label. Take a look at the contract! Mark Luke's album was jointly produced by Phantom Productions, Inc. and the Montie Music Group. Players on the album included Gene Elders, who plays fiddle with George Strait, Neal Larson, who plays keyboards for the Rolling Stones and several members of the Desert Rose band.
Click below to take a look at some of the early music videos Phantom produced for Mark Luke Daniels.
Go to MLD's Room music video
Go to Corvette Smile music video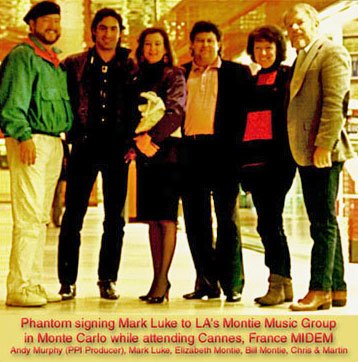 Above is Gene Elders (George Strait's Band) at Mark Luke's LA recording session and performing together at the Colorado Street Cafe in Austin.

Below is is one of several commercials Mark Luke completed for Coors, Mr. Gatti's and others. Click on the pictures below for larger image.
Mark Luke having photo taken in LA while Chris & Elizabeth Montie bounce light
---
"Phantom Productions" is the registered trademark of Phantom Productions, Inc. Copyright 2008
All pictures and content on this web site are the property of Phantom Productions, Inc.
home • about • client quotes • entertainment • Phantom Productions • Phantom equipment • Phantom's history • hot air balloon videos • links • multimedia • studio • production • vintage reel to reel tape recorders • web site design and hosting • • weather • scrapbook